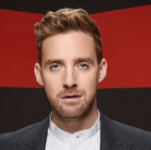 Ricky Wilson is the lead singer of English band Kaiser Chiefs, a group known for songs like "Ruby", "I Predict a Riot", "Never Miss a Beat" and "Oh My God". He also has some minor acting roles in his credits.
Wilson is a coach on the third series of The Voice UK.
Ad blocker interference detected!
Wikia is a free-to-use site that makes money from advertising. We have a modified experience for viewers using ad blockers

Wikia is not accessible if you've made further modifications. Remove the custom ad blocker rule(s) and the page will load as expected.